Doctor Who's Sergeant Benton (John Levene) Visits Warlord Hq!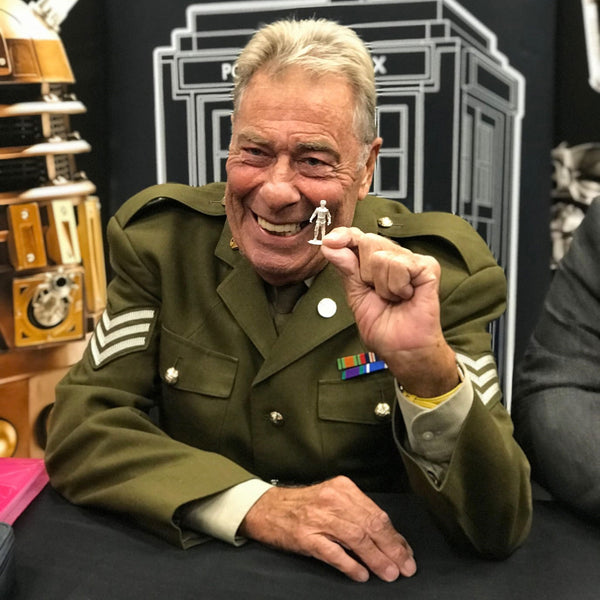 MINI HE! JOHN MEETS A MODEL CYBERMAN FROM OUR RANGE.
This August we were absolutely delighted to welcome a Doctor Who legend to our Warlord Games HQ in Nottingham – John Levene, well known to fans as iconic character Sergeant John Benton! John first appeared in the show in the 1966 Patrick Troughton story The Moonbase where he portrayed an uncredited Cyberman, one of an army invading earth's weather control centre on the moon. In 1968 he played a monster of a very different kind, a deadly Yeti, a robot controlled by the Great Intelligence in The Web of Fear a story missing for many years but rediscovered in 2013 much to the delight of John and fans. John returned to Doctor Who later that year playing Sergeant Benton, part of the newly formed United Nations Intelligence Taskforce (UNIT) which was set up to deal with new and unusual alien threats to mankind. Along with Brigadier Lethbridge-Stewart, he would feature in many more adventures for the Third and Fourth Doctors until 1975 when he made his final appearance in The Android Invasion.
John greeted and signed autographs for his fans in our shop, where he was met with a plethora of enthusiasts of all ages with items for him to sign, including a very rare copy of the Radio Times listings magazine from the 1960s showing his first billing in the programme.
JOHN AUTOGRAPHING A RARE COPY OF THE RADIO TIMES FOR A DELIGHTED FAN
Doctor Who Magazine reporter Paul Kirkley interviewed him about his life and experience in the show for a forthcoming issue, and John Kelly, a producer for the Doctor Who DVD range filmed proceedings. John recalled with great emotion how Douglas Camfield cast him as Corporal Benton in The Invasion and how he formed lasting friendships with Jon Pertwee and Roger Delgaldo on set. Official Nottingham Robin Hood Tim Pollard surprised John arriving to give him an official Nottingham legend greeting in full costume! Not to be outdone, John donned his Sergeant Benton jacket and much organised chaos ensued, when the Nottingham Post tried to take photos of the two legends facing off against one another!
Robin Hood, Sergeant Benton and Warlord's two founders, Paul Sawyer and John Stallard John's tour of our site began with a visit to our busy design studio, where every model in our Doctor Who range is conceived. He met in-house figure painter Kirsten Williams and then studio head Paul Sawyer unveiled a digital work in progress render of our Sergeant Benton miniature much to John's delight. He has always dreamt of coming face-to-face with a toy of himself and now his wish has been granted! John couldn't believe the detail present in such a small miniature and appreciated the amount of research undertaken to get every detail screen accurate. Next he was shown shots of our Second Doctor, Colonel Lethbridge-Stewart and Captain Yates figures which are still being developed.
JOHN EXAMINING OUR TARDIS MODEL WITH STUDIO PAINTER KIRSTEN WILLIAMS
PAUL SAWYER SHOWING JOHN DIGITAL SCULPTS OF OUR RANGE
Next, John was given the unique opportunity of producing his own pewter Cybermen miniatures, supervised by our casting supremo Pete Hely. He proved quite the natural and looked really at home in the official blue overcoat! John was then shown freshly made TARDIS models (and a few other exciting things we can't yet talk about!) by Rachel in our resin moulding department.
JOHN MAKING CYBERMEN MINIATURES WITH PETE HELY IN OUR CASTING DEPT.
JOHN MARVELS AS RACHEL WORKS HER MAGIC ON ANOTHER RESIN MODEL
2018 marks fifty years since the very first appearance of UNIT on our screens in the Patrick Troughton classic The Invasion (1968) so how apt that we could welcome one of the most iconic UNIT characters in the history of Doctor Who this year! Our Sgt Benton and other UNIT models will be available early 2019. Stay tuned to our official Warlord newsletter and Doctor Who site for exclusive news and figure reveals, updated weekly! In the mean time why not sign up, if you haven't already, to our official Facebook Doctor Who group? https://www.facebook.com/groups/doctorwhotimevortex/
JOHN AS SERGEANT BENTON IN THE DOCTOR WHO STORY DAY OF THE DALEKS (1972)