Black Friday Doctor Who Offers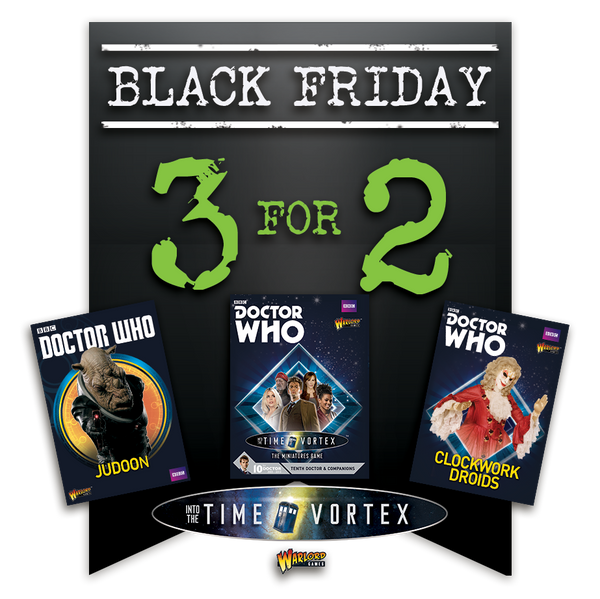 Welcome to Warlord Games Black Friday 2019
Black Friday Offers
We have got a huge range of models and games to choose from and throughout this Black Friday period, you can expect updates each Monday, Wednesday & Friday with new specials and fresh offers.
We have to say of course that each offer is subject to availability of each item within any given collection, while stocks last.
To make sure everyone has a chance to grab a bargain some items will be limited to only a few per order. Where an item is discounted you will see this applied to your order basket. Lastly, don't forget that if you have a Warlord membership, are a stockist or have a special code, then this can be used when you checkout.
Strontium Dog
View the Strontium Dog 33% Off collection
Bolt Action Box Sets
View the Bolt Action Box Sets 33% Off collection
Doctor Who
Note: Discount codes and membership discounts cannot be used with this offer.
View the Doctor Who 3 for 2 collection
Plastic Sprues
View the Plastic Sprues 50% off collection
Plastic Vehicles
View the Plastic Vehicles 33% off collection
33% Off Collections
50% Off Collections
Keep an eye on this page each Monday, Wednesday and Friday for more updates and special offers!
Customer service note:
"Please be aware that due to the very high numbers of orders received due to the amazing offers, during this period we will be unable to amend existing orders, either by changing their content in any way or merging them. Please plan and carefully select your choices when placing your order."
Possible longer preparation time required
Many items within the Black Friday offers are manufactured once an order is received and we do expect to receive a number of orders way beyond our usual standards. While we will strive to keep the preparation time within the usual 3-4 working days average, please be aware that delays may happen and in some cases, we may need up to 20 days from the creation of your order before the parcel will be ready to ship.
As usual please contact us with any questions
++44 (0) 1559 784495
Buy A starter Set and get a free plastic set
Note: Discount codes and membership discounts cannot be used with this offer.